It snows, the road is icy, it is cold and windy, but there is a woman with a smile and an infinite kindness that characterizes her, who enters the last house of the alpine village of Pietraporzio. We are 1200 meters away, I was tired of climbing it, but this tenacious climber had to do it. She is a local nurse and in particular, the alpine nurse, she knows this very well, as she knows the people who live there, the loneliness of those places, the difficulties for the elderly. An old grandmother is waiting for him for a simple injection. Those of the nurse will be the only words with someone of that day, it will be the best coffee of the week accompanied by a warm smile, a real and sincere listening and an exchange of words in the silence of that copious snowfall. When the white-haired woman opens the door and sees the young woman, she feels calm and it's as if some ray of sunshine enters the house! All this is Cristina: mountaineer, local nurse, writer. Today I will tell you his story.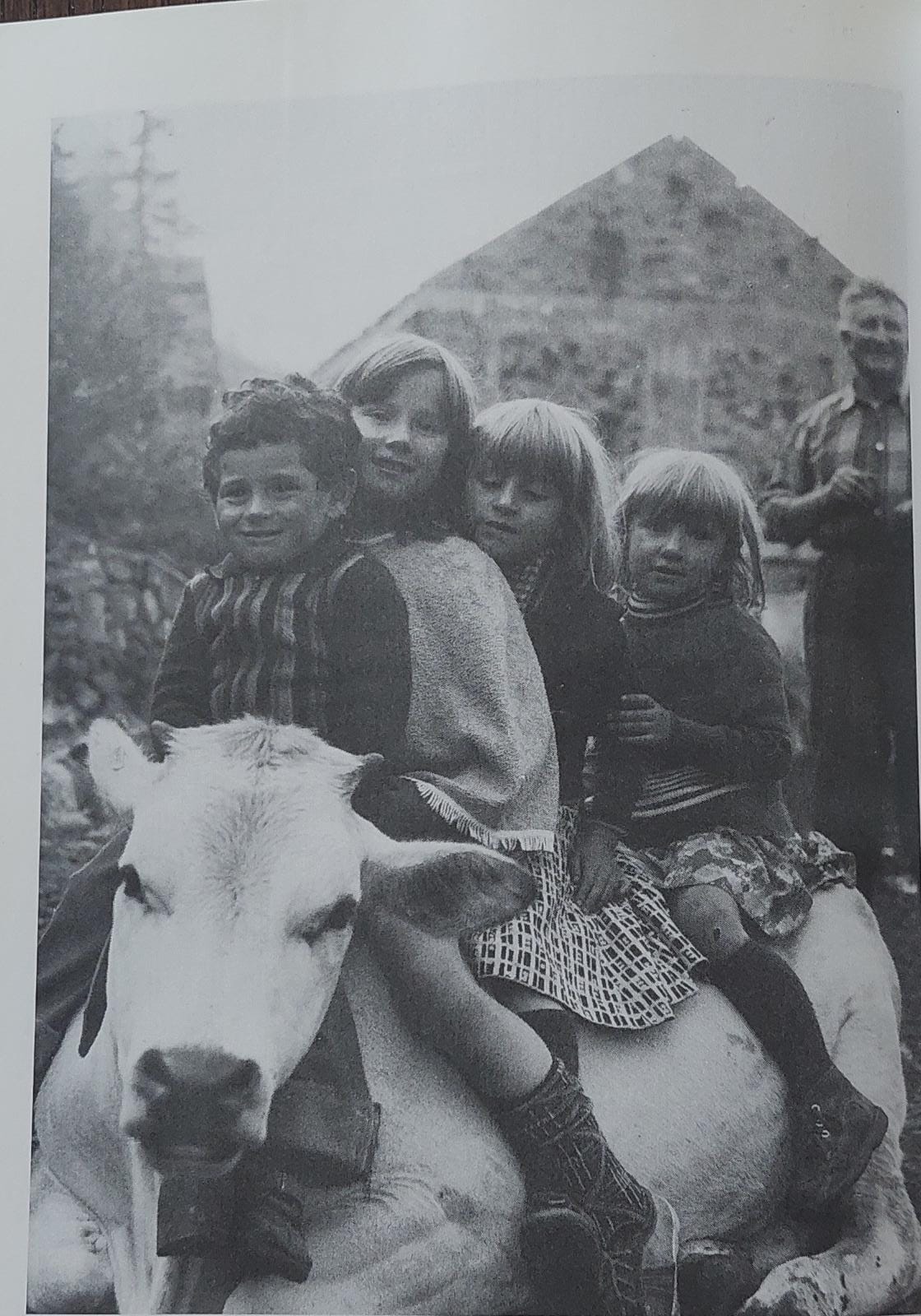 Cristina was born in the mountains, and was linked from an early age to the Sanctuary of Sant'Anna di Vinadio, a place known in the Stura Valley in Piedmont, Cuneo province, as a pilgrimage destination. It is a special place where the faith and the mountains are in the highest sanctuary in Europe at 2035 meters above sea level (http://www.santannadivinadio.it) The whole history of his family is linked to this place and particularly in the house. of the Randiere.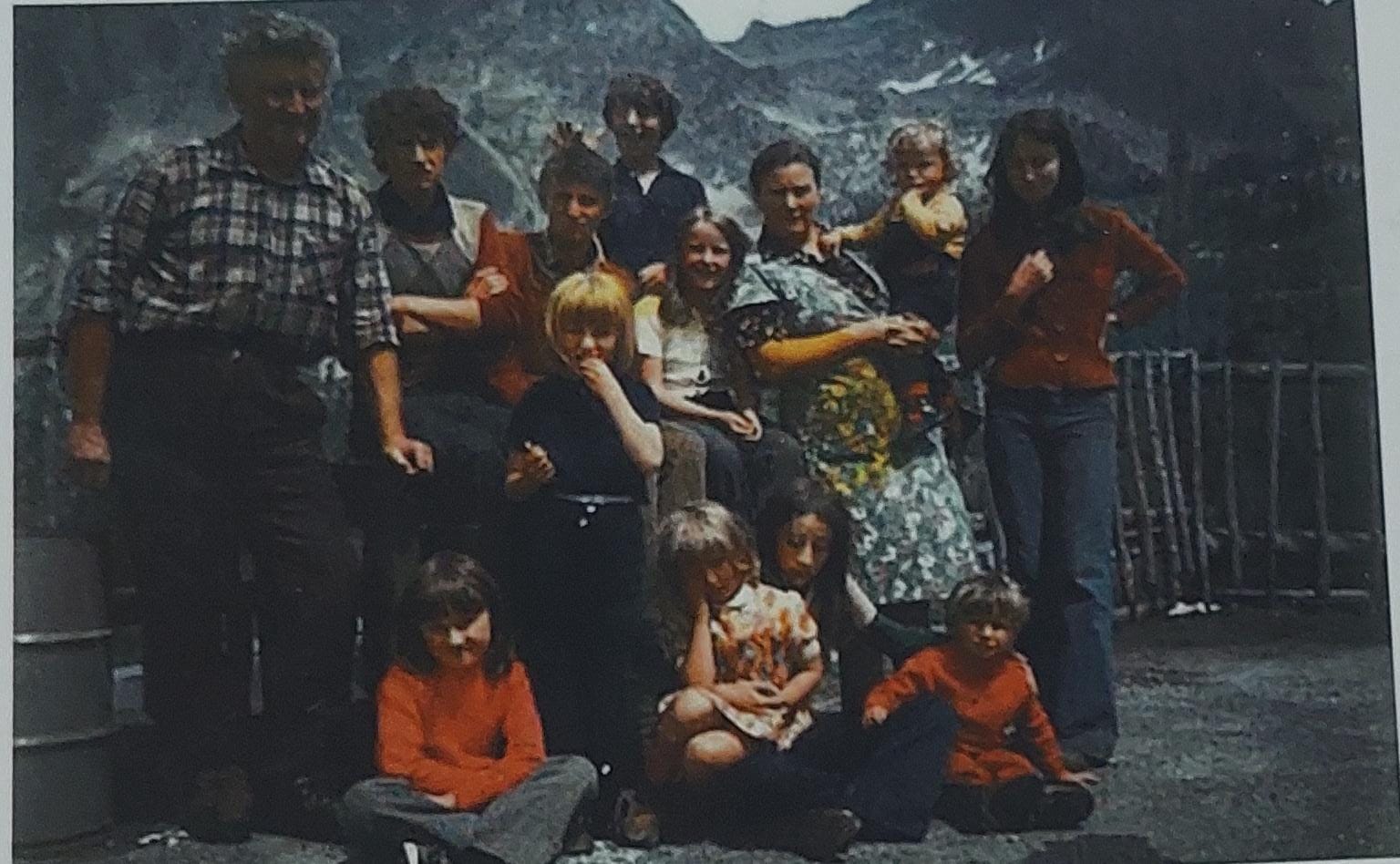 From a young age for her, Sant'Anna was "at home" from the end of school until the day before the new school year began. The whole family moved to the mountains, everyone helped, everyone took care of themselves and it was like summer was another life. A large family unit, 11 children plus parents, but a cohesive group, united and used to welcoming, helping and listening. Now the Randiere house is a museum but for those who lived there, like Cristina, it is a piece of life, those walls smell of history, of good and bad memories, of family, friendship, hospitality, hospitality and all that. living house. it can leave those who have lived there.
But what was the house of the Randiere? Why was it so useful? Why is their story so special? It was a house, built for the Randiere, or the guardian of the Sanctuary, who took care of it all year round, took care of it and had the important task of ringing the church bells, in times of fog, snow, storm to help pilgrims not to get lost and find a safe place to be welcomed. Life at the Randiere's house was full of encounters, leaving its mark on pedestrians who passed by and inevitably returned: perhaps through that basin of hot water and salt that knew how to arrive, at the right time, after hours. and hours. hours of walking to relieve foot pain? Or by that soaking clothes hanging in front of the stove to dry, removed by a pilgrim, who had found the rain in his path? Or simply because that was everyone's home? Going to the Randiere bar, buying a piece of cheese or butter, was a custom of the pilgrims and was an unmissable appointment every year. In the girls of the Randiere house, work was never lacking, the alarm clock was early and the retreat was late, but often, on the cool summer nights of that alpine paradise, some guests stayed, and in front of a genepy or a hot drink. , we sang and laughed until late. Other times, Cristina and I have a veil of sadness, during our talk, a time when human relationships were authentic, selfless and very strong.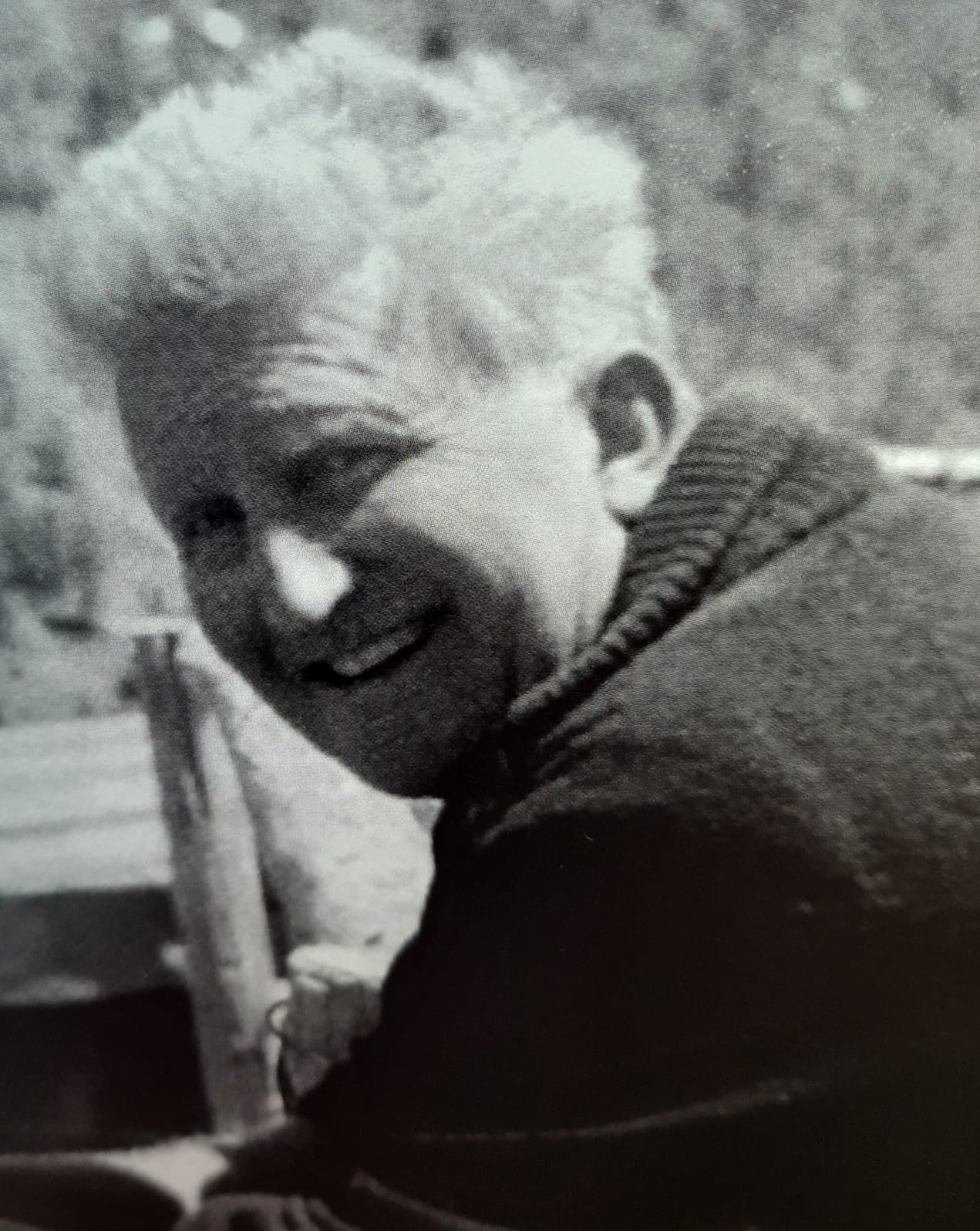 There were difficult times in the life of this family, especially when Father Lidio died, the management contract expired, and Sant'Anna did not become a custom but I remember it. The brothers have grown up, everyone has taken their own path, but the memory remains, that part of the road made all together, in the house of the Randiere has left its mark and for Cristina, to say it has become a duty, a memory to leave, a way to relive that reality that, once gone, he began to miss. The words thus became memories, emotions, sensations, perfumes and took shape becoming books: the first "Lidio Giraudio The Last Randiere" A Life for Sant'Anna di Vinadio, written in collaboration with Antonella Saracco, published by Araba Fenice, where you can read the story of the father of this splendid woman. The second, entitled "The house of Randiere" words by Cristina Giraudo and Marco Giraudo, photo Alma Giraudo Edited by Primalpe, where, reading, you can make a real trip to the House of Randiere, with beautiful words and very captivating images!
Cristina's life choices have undoubtedly been influenced by her summers at the Casa del Randiere and to have understood the option of becoming a nurse is proof of this. Listening to his talk was a journey into his heart, in the respect he has for all the people he knows every day, how he knows how to tiptoe through those houses, how he knows how to show empathy with those in front of him. of her. Cristina also often accompanies people who decide to leave this world choosing the family environment, she stays with them until the end, a role that few can play, but which she faces in her delicate and welcoming way, so that is part of it. . and it is a family legacy!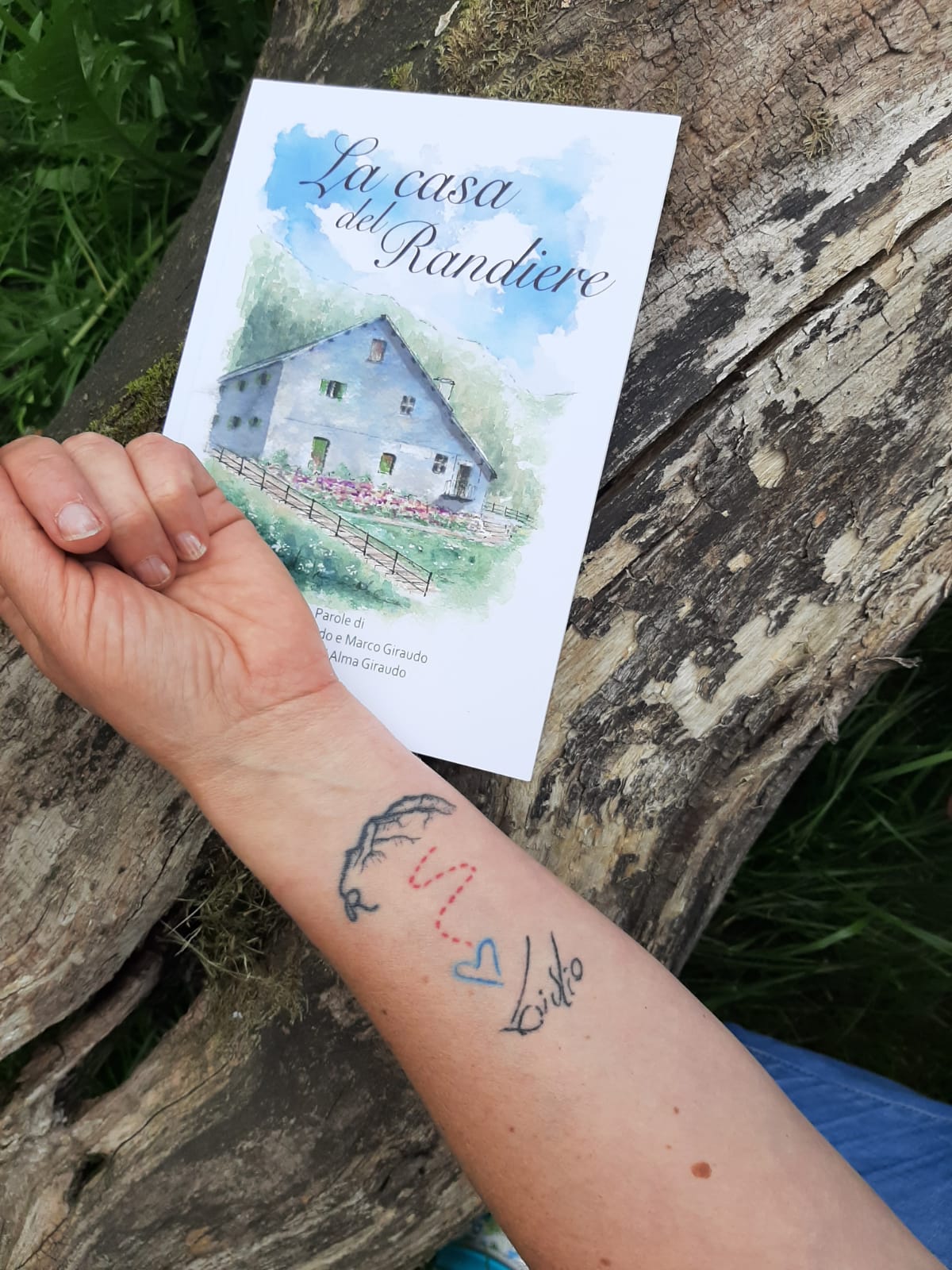 On Cristina's arm a tattoo, all that is right to be indelible on her skin: the signature of her father, Lidio Giraudo, the Randiere, and Maladecia, the mountain he loves most!
Remembering Sant'Anna di Vinadio was also important to me because something special unites me to that place. Every year my grandparents would go to that place to celebrate their wedding anniversary, it was an unmissable date, a little vacation that they would take every year and sometimes I would go with them too. I remember well the conversations with the Randiere, the glass of wine in company in the heat of the stove, in that bar that was always the same and that was a certainty in that isolated place in the world. Those days were a gift for them, a get-together together on the mountain they loved so much. I have an indelible memory of those moments and seeing Cristina again brought to light the past and I was overwhelmed by the emotion of not being able to have them anymore. I am grateful to Cristina for deciding not to let that house die, because many have passed through there and many still have this place in their memory, but then everything is forgotten, everything happens because of it, words are needed, because they remain for always. . It was Marco Giraudo, a loyal customer of the house of the randiere, who pushed Cristina to write and so, thanks to them, here we are with this precious material in our hands.
I want to conclude the article with the photo of this book because in this volume, and in the purpose for which it was written, there is not only the memory of a house, but a noble gesture that only a woman like the Cristina could have in store ..
On the last day at the randiere's house, when I returned home, before school started, a surprise was always reserved for the family's children. Arriving home, in the parents 'room, on top of the old drawer, were mountains of books, paintings, pencils, notebooks, school supplies, new clothes for the start of school. For Cristina it was the most beautiful day of the year, and in her the smells, the wonder and the surprise of those moments are still present. Not all children today can experience so much happiness and therefore the money from buying this book is set aside because there is a good project. Cristina wants to see in the eyes of the children the same joy that was in those moments. In our western world this is no longer possible so he will go abroad with his suitcases full of material, bought with the collection of his book, his splendid smile, his tenacity mixed with humility and will do what he likes best. : bring happiness. suffering! For contacts Cristina Giraudo is on facebook http://www.facebook.it/Cristina Giraudo
Cristina is a real mountain woman, a local nurse, a mother and a brilliant writer who really has many projects, with whom it is pleasant to talk, who, like me, loves to explain and preserve the memory of the past because it is clear which has the importance of not losing the old experience. I welcomed her to the "think tank," my own place where I take refuge to write, and it was like having a friend with whom to share a space where only a few have access. You recognize older women right away and tune in effortlessly, you have a good memory and a desire to rediscover them. Thanks Cristina.
Today a story for you that connects me to past memories and that I wanted to tell because hidden among the meanders of the mountains, there are special stories, made by special people and only a careful search can find them! That's why I have to thank a reader of this blog, Claudio Rivoira, who put me in touch with the protagonist and he was right: this is a good story to make known! My "hunt" is always open and continues because good stories are needed! Follow me, you will surely like my journey through my words! See you next Sunday with my "Mountain Stories" column.