Anadia (Portugal) – This afternoon, Thursday 30 June, the European Mountain Bike Championships with the Short track, the discipline that since this year has surpassed the UCI and all cycling federations including our FCI that proposed the tricolor challenge last Sunday in La Thuile. The four junior and Open challenges were held every two hours. Elite and under-23 have merged into a single category. Italy ends the day with a first medal, which was taken home Giorgia Marchet.
Photo © FPC
24 junior girls (7 laps) were in charge of officially inaugurating this first European short track, in the race where everyone gave the Swiss as favorites the Czech took over. Simona Spesnà to break the party for them. On arrival he burned both Lea Huber and Monique Halter. There were also three blue jerseys, all finished in the top ten of the day, the fastest being fourth Lucrezia Braida. "It was hard, I didn't start well but then I managed to recover, then I managed to stay in the top positions without losing too much energy, as Andrea Tiberi suggested. On the last lap there were four of us but I couldn't follow them. "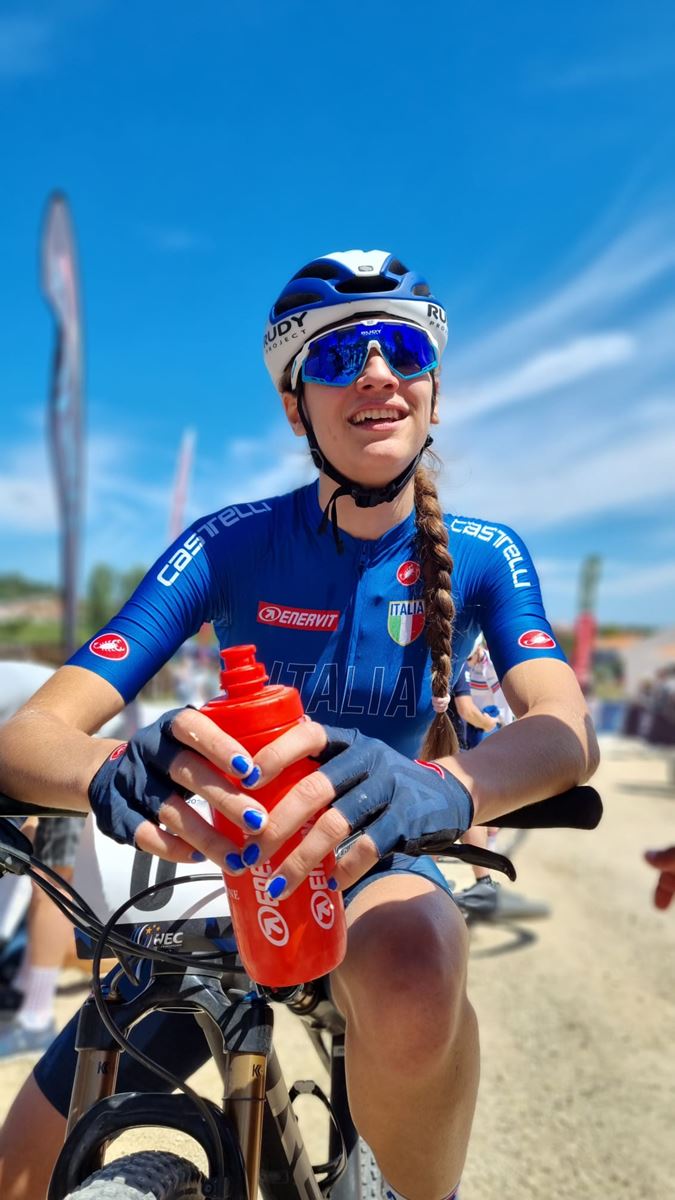 Photo © FCI
Seventh Beatrice Fontana and tithe Marika Celestino.
JUNIOR FEMALE ARRIVAL ORDER (24 PARTICIPANTS)
1 SPESNÁ SIMONA | CZECH REPUBLIC 00:19:42
2 HUBER LEA | SWITZERLAND 00:19:43
3 HALTER MONIQUE | SWITZERLAND 00:19:44
4 BRAIDA LUCREZIA | ITALY 00:19:53
5 HAHN CARLA | GERMANY 00:20:08
6 CIRIKOVÁ TERÉZIA | SLOVAKIA 00:20:16
7 FONT BEATRICE | ITALY 00:20:17
8 HYLÉN TILDA | SWEDEN 00:20:18
9 GRÉGOIRE JULIA | BELGIUM 00:20:24
10 CELESTINE MARIKA | ITALY 00:20:50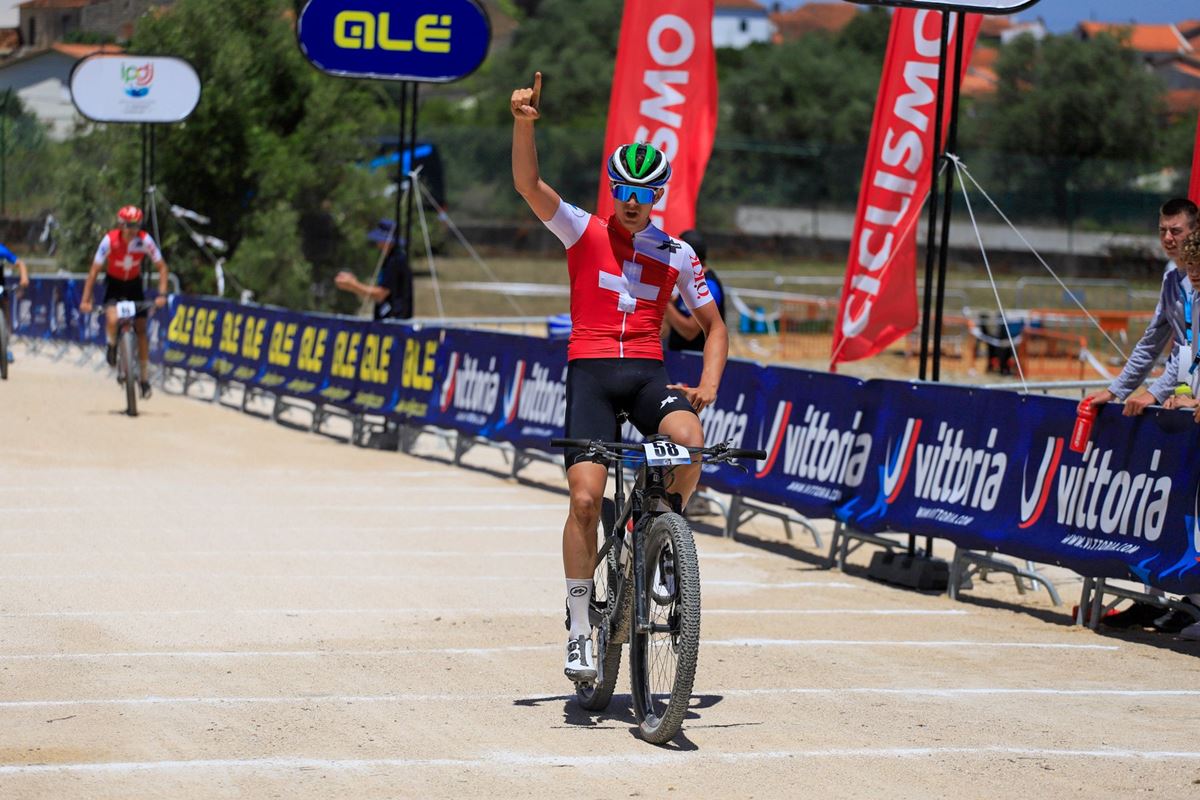 Photo © FPC
There Swiss recovered gold and a fourth medal in the men's children's competition, making it clear that it is the strongest nation here in Portugal. The medal of the most precious metal is placed around his neck Yanick Binz, while the silver went to Loris Hättenschwiler, third Sweden with Leo Lounela. Two blues in the race, ninth Tomàs Paccagnellathirteen Gabriel Borre.
MALE JUNIOR ARRIVAL ORDER (39 PARTICIPANTS)
1 BINZ YANICK | SWITZERLAND 00:20:51
2 HÄTTENSCHWILER LORIS | SWITZERLAND 00:20:55
3 LOUNELA LEO | SWEDEN 00:20:57
4 KRÜGER BENJAMIN | GERMANY 00:21:00
5 GRÄTER LARS | GERMANY 00:21:00
6 SANDIN HUGO | SWEDEN 00:21:00
7 SIDAHMED KHALID | SWITZERLAND 00:21:00
8 BRUYCKERE KAY | BELGIUM 00:21:01
9 PACCAGNELLA ELIAN | ITALY 00:21:01
10 PAHOR ZAN | SLOVENIA 00:21:04
13 GABRIEL BORRE | ITALY 00:21:11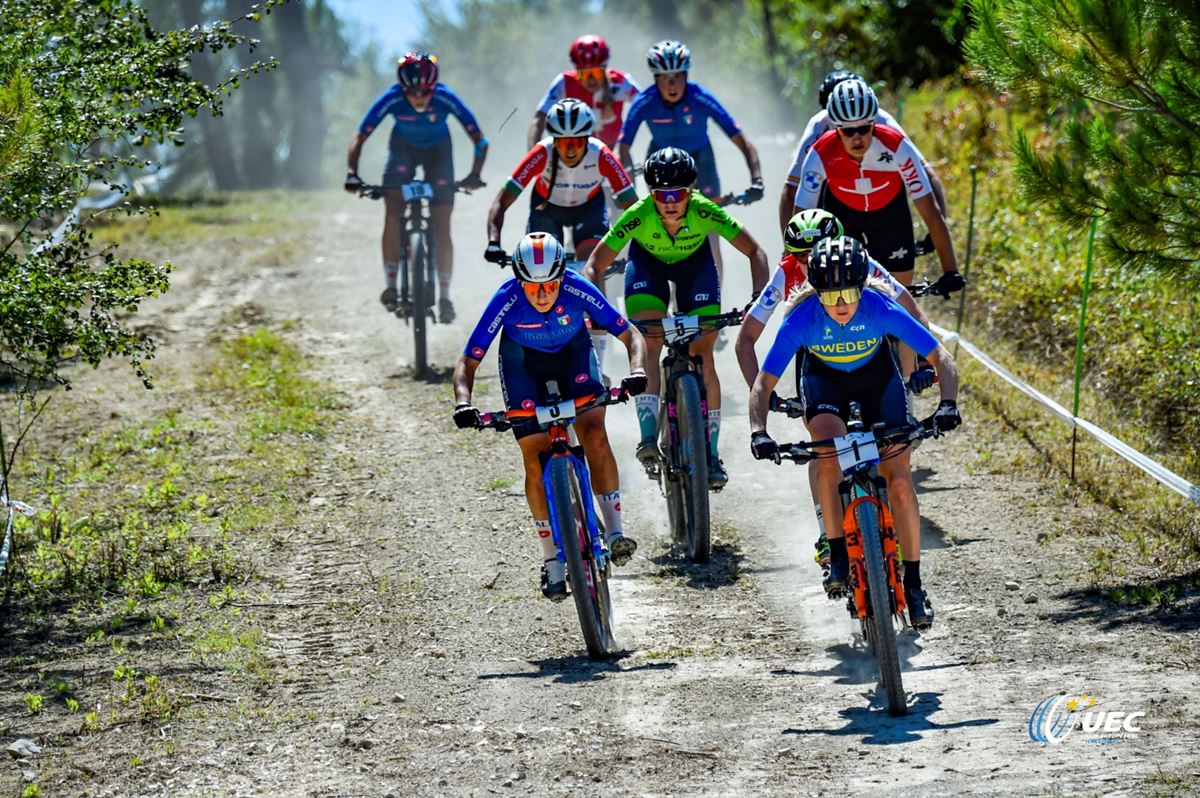 In the third outing, the one reserved for the Women's Open, we lined up three girls among the 18 who were on the grid. While the juniors ran for about 20 minutes, the Under 23 and Elite had to do 10 laps, so a race of just under half an hour was expected and so it was. The group broke up, with nine in front of them, including the three blues, Giorgia Marchet, Letizia Marzani and Noemi Plankensteiner.
To finally see a skim, we had to wait for the last laps when the two elites, our Marchet and the Swedish Linn Gustafzzon (Jenny Rissveds' partner in the World Cup) managed to separate from the group along with the Red Cross. Ronja Blöchlinger.
In the last lap, the tenth, it was Switzerland who changed gears and brought his team the fifth medal, the second gold. Ronja Blöchlinger won in 28 minutes and 42 seconds, unlinking ours Giorgia Marchet 13 seconds. So thanks to Belluno Italy, Italy took home the first medal. Third Gustafzzon who had to sprint to keep the Vita Movrin comeback.
"Today I knew I had to keep a high pace because I suffer from rivals' shots, that's why when I entered the final straight of the last lap I accelerated but the Swiss started sprinting and I paid for these changes of pace. "I'm happy because this is my first medal with the blue shirt. The route was pretty fast, there were a few doubles and a few parabolic ones. Now I'm thinking about tomorrow's race, as I'm also running in relay."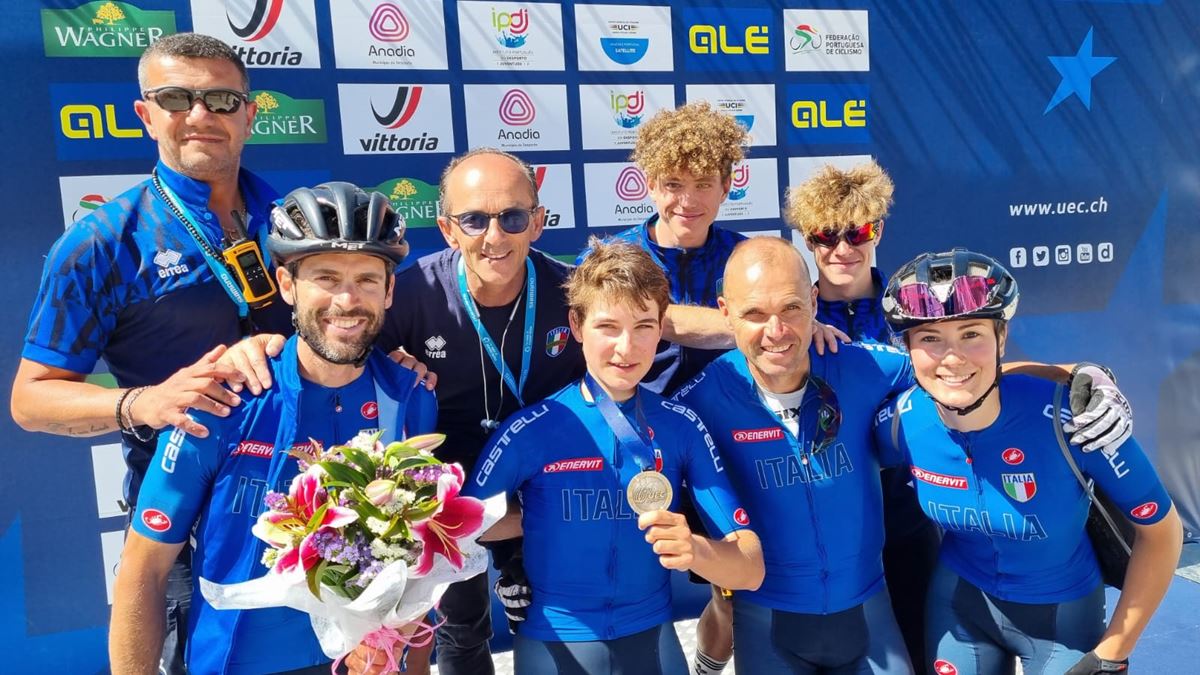 Photo © FCI
Top ten for the other two blues, ninth Plankensteiner, tenth the Marzani.
ARRIVAL ORDER WOMEN OPEN
1 RONJA BLÖCHLINGER | SWITZERLAND | U23 00:28:42
2 GIORGIA MARCHET | ITALY | EL 00:28:55
3 LINN GUSTAFZZON | SWEDEN | EL 00:29:01
4 VIDA MOVRIN | SLOVENIA U23 00:29:01
5 GINIA CALUORI | SWITZERLAND | U23 00:29:12
6 TINA ZÜGER | SWITZERLAND | U23 00:29:14
7 LUCIA GOMEZ | SPAIN | U23 00:29:16
8 RAQUEL QUEIRÓS | PORTUGAL U23 00:29:17
9 NOEMI PLANKENSTEINER | ITALY | U23 00:29:22
10 LETIZIA MARZANI ITALY | ITALY | U23 00:30:20
MALE OPEN ORDER OF ARRIVAL
1 Charlie Aldridge | Great Britain 00: 29: 48.517
2 David Campos | Spain 00:30:04
3 Alexandre Balmer | Switzerland 00:30:10
4 Jarne Vandersteen | Belgium 00:30:18
5 Corran Carrick-anderson | Great Britain 00:31:01
6 Arne Janssens | Belgium 00:31:06
7 Mario Costa | Portugal 00:31:09
8 Niko Heikkilä | Finland 00:31:09
9 Clement Horny | Belgium 00:31:10
10 Roman Holzer | Switzerland 00: 31: 11,884
THE RELIEF IS OFFICIALIZED
On Friday there are two races, the Relay Team (XCR) in the morning and the Eliminator with Gaia Tormena in the afternoon. The sextet of the blue relay has become official today: Marco Betteo (Junior Male), Fabio Bassignana (Junior Male), Giorgia Marchet (Female Elite), Valentina Corvi (Female Junior), Giada Specia (Female Under 23), Simone Avondetto (Male U23).
THE MEDAL HOLDER
Switzerland 2 gold, 2 silver, 1 bronze
Britain 1 gold, 1 bronze
Czech Republic 1 p
Italy, Spain 1 silver
Sweden 2 bronze
THE PROGRAM (IN PORTUGAL THEY ARE 1 HOUR AGO COMPARED TO ITALY)
Friday, July 1st
11:30 Relay by teams
18:15 Eliminator XC
Saturday, July 2nd
11:00 XCO Junior Male
14:00 XCO Junior Women
Sunday, July 3rd
11:00 XCO Under 23 women
14:00 XCO Under 23 men