Success for the Legnano Sports Festival 2022. Many Legnano athletes put on a show this hot June Sunday. In Legnano also the vice-president of the CONI Lombardia, Claudia Giordani.
Legnano – 5pm, the heat is torrid, the tatami mats, the basketball courts, volleyball, football and even the stage are still hot… However, many Legnano athletes do not lose heart and continue without fail to demonstrate your technical skills, be it judo, karate, football, basketball or gymnastics, a true demonstration of the great amount of sport that many young athletes are capable of suffering even in today's sun.
Between one exhibition and the next, including that of the waves of the city of Legnano, an important institutional moment: to go on stage the vice-president of CONI Lombardia Claudia GiordaniUnforgettable ski champion of the 70's.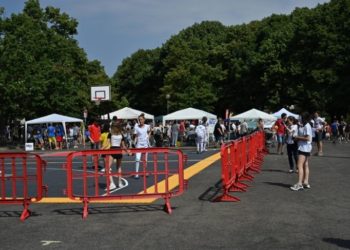 An expected audience heard his words full of applause for this day in Legnano dedicated to sport: "I congratulate you all for the splendid success of this event, we have been working for a long time to make the word sport or physical activity part of our Constitution, in Lombardy we are ready to look at the great Olympic goal that is Milan-Cortina 2026 which will be an edition of the Games that will involve the whole territory. A goal to which I hope that all of you can participate as protagonists also because it is a joy to see how sport is an actor at the center of life in each city and how each municipality can, through sport, try to live better. Thank you all for your commitment and passion. "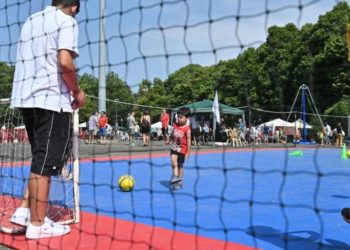 After the intervention of Lorenzo Radice, mayor of Legnano: "I have already had the opportunity to see this morning a square full of joy and emotionthank you, in particular I thank Carlo Bandera for the work done, I am happy to see the parallel with the world of the Palio as here are also some men and women of the Palio, the one where last year we decided to restart our Palio. This year we had to celebrate this celebration that makes our community alive, makes a city like Legnano alive and attractive. Going back to the square means making it clear how good sport is for this city. A zero edition in which we also wanted to bet on some changes, on which we will reflect and think to make it better and better. What does the Administration do for sport.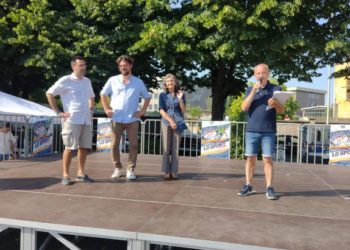 Legnano suffers because we have accumulated historic delays, we are trying to do our part, this year we will put about two million in sports that is not a trivial figure, including facilities and support for associations, but the numbers do not count, the commitment. counts, what matters is that sport has returned to the center of the political agenda and the things we talk about, this says how Legnano cares about his young people and to transmit values ​​for different realities, school and sport. in first place. From this point of view, also come and call because we are here, we are here to ensure that the sport in Legnano can start again in a fantastic way. This morning my heart openedor when, arriving from the lower step, I saw a square full of people and I said: challenge won, from here we start again for other editions. I wanted to greet Letterio Munafò, chairman of the sports commissionthat he could not be with us this afternoon due to a family problem ".
Finally, at the end of the institutional interventions, Claudia Giordani presented three CONI medals to Mayor Lorenzo Radice, Sports Councilor Guido Bragato and Carlo Bandera, President of the ASSL.
Sergio La Torre
Photo gallery of Dario Croci
Keep following us on our social media, click here!
Related articles