Many sports associations in the market square for the 2022 Sports Festival desired by the president of the sports associations Carlo Bandera, by the Councilor for Sports Guido Bragato. "Sport is inclusion, socialization and dedication," they both say in unison with the support of Letterio Munafò, chairman of the Legnano Joint Sports Commission.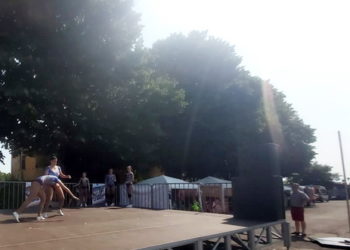 Legnano – Day dedicated to sports with the realities of the sport city of Legnano in a day entitled "The sport of Legnano is with its city"In which many sports are represented in the market square, in front of the Castello park. The commissioner Guido Bragato together with the president of the Sports Commission, Letterio Munafòto the president of the Sports Associations, Carlo Bandera, have released the 2022 edition. An edition characterized by two novelties: the change of position in the market square and the involvement of all sports practices. "We wanted to dedicate an entire day to the associations so that we could introduce ourselves, get to know each other and socialize. Sport is inclusion and socialization " says the president Carlo Bandera.
In the same opinion, the Councilor for Sports, Guido Bragato: "Today many people in the market square to give more visibility to the many sports associations that animate the city. The choice of the market is ideal and represents the place where many of them operate. "
The chairman of the sports commission, Letterio Munafò, echoes him: "It's a pleasure to see so many sports associations here." And to the question of the collaboration of the minority with the administration: "We are attentive people. We both want the good of the city. Councilor Bragato is an attentive person and an effective collaboration has been born between us independently. "
And at 10 the "dances" began, that is, the performances where everyone gave the best of themselves. throughout the day many events at the event because Legnano is there and wants to give space to sport in all its forms: health prevention, socialization and inclusion.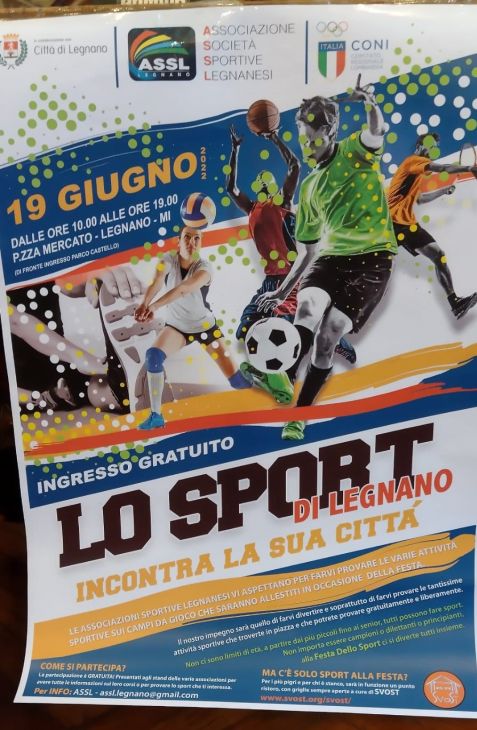 Here is the list of companies that will be present in the "Sports Festival", Divided by discipline:
Football: Academy Legnano, football Legnanese, Legnarello ssm asd, SS. Martyrs polysport asd football
Gym: Amico Sport asd (acrobatic gymnastics), modern gymnastics asd (rhythmic gymnastics), persevering gymnastics asd (artistic gymnastics)
Arc: Asd hammer archers
Cycling: Unione Sportiva Legnanese Ciclisti asd
Volleyball: Fo.co.l. Volleyball Legnano gsasd, Vomien SS. Martyrs asd
American Football: Frogs Legnano aft asd
Martial Arts: Haganah Legnano asd Martial Arts (Israeli Ju Jitsu and KickBoxing), Judo club asd judo, Karate kickboxing asd (karate and kickboxing), Karate Legnano Shorei Shobukan asd (karate), SO. CU. Karate Legnano asd (karate), Versus asd (martial arts)
Baseball and Softball: Legnano baseball softball asd
Basketball: Junior Knights Legnano Ssdrl asd, Siderea basketball Legnano, Virtus Carroccio asd
Rugby: Rugby Legnano i Crociati asd
Running: Runners Legnano ssd arl
Fencing: Legnano Fencing Club
Nordic walking: Nordic walking Altomilanese asd
Castoro Sport Legnano asd (basketball and rhythmic gymnastics)
Live for life Academy asd (dance, aerobatics, pilates, fitness, courses for new mothers and martial arts)
OLC Volley and OLC Calcio asd (volleyball, football and table tennis)
SM KOLBE asd (volleyball, basketball and athletics)
Flags and musicians of Legnano
Section of the Italian Association of Legnano RefereesDance workshop (dance, fitness and pole dance)
Flags and musicians of Legnano
Section of the Italian Association of Legnano RefereesDance workshop (dance, fitness and pole dance)
The writing
Updating photo gallery
Related articles