Pescina – Last weekend the "Silone Trophy", sporting event dedicated to well-being and inclusionorganized by CSIItalian Sports Center, L'Aquila Committee, chaired by Luca Tarquini. Great success for all the events that animated the days of the "Silone Trophy" during which the sport has been conjugated with the cultureto the tourismto the territories. "I am extremely happy with the results and for corpulent ones participation at organized events"The president of the CSI L'Aquila, Luca Tarquini, proudly states"Ours was also an ambitious project thanks to the municipal administration of PescinaWe have arrived remarkable results and unexpected". El June 9 the training course was done Sports operator with a level II disability since one of the main objectives of the Italian Sports Center, the L'Aquila Committee, is represented by formation of professionals who know how to work encourage the inclusion of people with disabilities through sports.
There racing game Saturday morning was attended by children and adolescents between 6 and 13 years old who allowed the full and shared interaction between healthy and disabled people, who suffer from physical or intellectual deficits. Durant "Silone Trophy"They were also given space cultural and historical value of Pescinahost city, with the Traveling exhibition on Ignazio Silone "Art is a wild flower, he loves freedom, man, writer, intellectual". Basic moment of growth and comparisonon topics related to us through sport, was the Conference "Sport and disability" which took place in the presence of a large audience who attended the greetings and speeches of numerous institutional and religious representatives, experts, scholars I athletes of international caliber. Finally, many participants in the "Fontamara urban path"Sunday: competitive race, valid for CSI L'Aquila provincial championship and for classifications for the National Championshipwhich has meandered through the fascinating urban road in the historic center of Pescina you will discover some of the emblematic places of the territory: Basilica of Santa Maria delle Grazie, Silone Museum, Ciutat Vella, Piccolomini Tower, "Mazzarino" House-Museum, Tomb of Ignatius Silone and Font de Silone.
"This is just the beginning for us"Luca Luca Tarquini"it was a event that will lead to concrete developmentstherefore to a real and effective one proximity to local associations, families and the most vulnerable. CSI L'Aquila has always been committed to improvement paths of awareness which purport to involve the familiesthen the childrenen construction projects that, as happened to Pescina, they are capable combining sport and disability. Both the Marsican demonstrationboth what had been held earlier L'Aquila I am ambitious projects which they have considered important educational, cultural, competitive, sporting and inclusive events. For future we have other ideas in the process, but we will talk about them in due course. I can only say that in the near future we will also consider the environmental and ecological component".
In conclusion, President Luca Tarquini addresses his staff thanksto which are added those of CSI Provincial of Aquila, who were allowed the magnificent success of the "Silone Trophy": Dr. Guido Quintino LirisCouncilor for Budgets and Sports and sports equipment; Mirko Zaurimayor of Pescina; Luigi Soriconedeputy mayor of Pescina; Antonio Odorisio, councilor for sports at Pescina City Council; SE Mons. Giovanni Massarobishop of the diocese of Marsi; Don Cristoforo Simulaecclesiastical assistant CSI L'Aquila and Head of Sports, Tourism and Leisure in the Province of L'Aquila; pare Circles of RizieroHead of Sports, Tourism and Leisure of the Diocese of Marsi; From where Giovanni Ventorector of Pescina; Dra. Tiziana Cucolopresident of the "Ignazio Silone" Study Center in Pescina; Dr. Domenico TaglieriPresident of the Carispaq Foundation; Dra. Maria Giglifull professor at the Integral Institute "Fontamara"; Dr. Michele MarchettiCSI national director general; cav. Carlo Rossetti, founder and honorary president of AISA Sport; Dr. Elisa Napoleoni, university professor psychologist and psychotherapist; Dr. Andrea Fusco, journalist and sports commentator for La Rai and television presenter; Dr. Alberto Ravanetti, Siap Regional Secretary – State Police; Dr. Francesca Ballatiinternational Eurodesigner; Alessandra De LucaMiss Grand International Abruzzo; Pierpaolo Addesinational Paralympic cycling athlete; Federico Di Felicenational Paragliding champion; Dorindo Mancinelliformer national GoalBall athlete; Salvatore's Sundaypresident Anffas; Maria Teresa Maceronipresident of Unitalsi; Vincenzo Di CeccoConi Provincial Delegate; Thanks; Fabio Bruni Dolomiti Energy regional manager; Avis di Pescinavolunteers of the Civil protection it is still Pina Tempesta, Alessia Peduzzi, Alessandra Lunadei, Arianna Golia, Massimiliano D'Addario, Filippa Odorisio, Michela Salatino, DJ Mattia Tarquini, Danilo Buongiovanni, Francesco Monacelli, Silvia Di Giustino, Claudio Palenca, Massimo D'Angeli and all participants.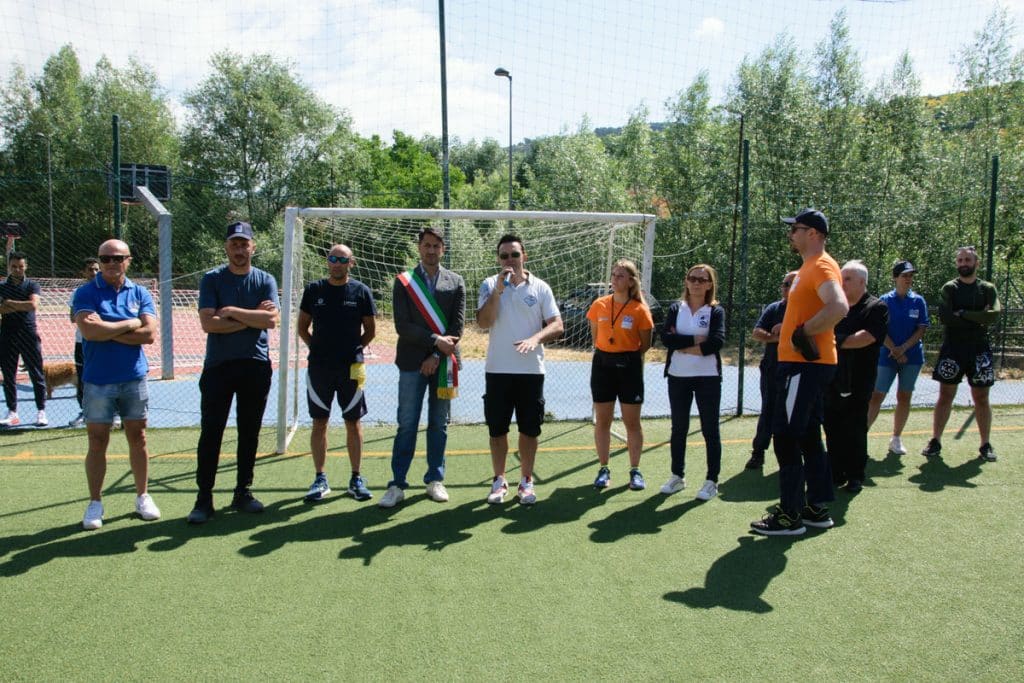 Comunicato stampa