The project Rosemary Young together with the national award "I Dreams of Rosemary" born to continue the ideals of Rosemary, daughter of Giuseppe Manilia I Rosita Costa, prematurely disappeared. The project involves schoolchildren in a tasting course in a pastry shop together with the pastry chef.
The constant search for aesthetic and gustatory perfection, indispensable for transforming pastry into art, becomes a "life lesson" to give students. It happens when the multi-award winning pastry chef from Montesano sulla Maricani (Salerno) "gets on the chair", Giuseppe Maniliasupported for the occasion by the journalist and professor of Gastronomic Higher Education Michele Armano. The initiative represents one of the many activities devised by Giuseppe Manilia and his wife Rosita Costa to carry forward his daughter's ideals Romanihe died prematurely due to a severe aneurysm.
The Rosemary Giovani project and the pastry shop
To the solidarity destined especially toHospital Santobono of Naples and the annual national award "Rosemary Dreams"therefore, it joins the "Rosemary Young Project". An extraordinary opportunity for the students of the schools involved, who can learn all the secrets of "Pastry tasting itinerary ": a new and unpublished idea, the result of two years of studies and experiments that led to the creation of a real model, destined to become a reference standard of the highest quality.
Giuseppe Manilia, already winner of the "Pastry Chef of the Year" Award given byItalian Academy of Master Pastry Chefs and a regular guest on RAI broadcasts, he puts his talent and experience at the disposal of young people on behalf of Romaní, who lived his friendship with his teammates with great enthusiasm. After the inauguration of the project in theGambero Rosso Academy in Rome, the second event saw the protagonists of the students of the State Professional Institute of Food, Wine and Hospitality of theIIS "A. Sacco" de Sant'Arsenidirected by the director Rosaria Murano.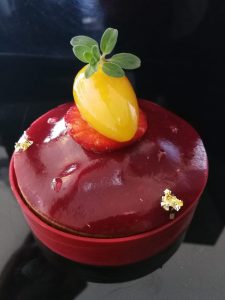 In the spotlight all the phases of the "tasting path", designed to represent a reference model for any pastry shop: from conception to realization, to fruiting. A lesson much applauded by the students, totally conquered by the professionalism, the originality but above all by the heart of the "teacher" Giuseppe Manilia.
Video interviews:
Giuseppe Manilia, the pastry chef and the Rosemary Giovani project
"It gives something, but something important: two years of experience that I developed during the Covid and that I make available to students on behalf of my daughter". Giuseppe Manilia.

Michele Armano, the journalist and the Rosemary Giovani project

"We are here to try to stimulate these young people, not just to study, but to keep doing it, therefore to keep up to date, and above all to stay in a sector that is the most beautiful in the world." Michele Armano.
Rosaria Murano, the director and the Rosemary Giovani project
"Our children must have the opportunity to be trained at three hundred and sixty degrees and also to be trained abroad, but our goal is to get them out of the territory and then make them stronger and more prepared in terms of professional and human skills and in terms of experience ", Rosaria Murano