The video interviews the actors and director of The most beautiful day, a remake of C'est la vie – Take it as it comes. First time as an actor for Stefano De Martino doing a duet here with Fiammetta Cicogna, and debut as a director for the historic author of Maurizio Crozza, Andrea Zalone.
A shabby brigade fighting with the organization of a wedding party where everything happens. It happened in C'est la vie-Take it as it comes, a French film, a little gem of the comedy of 2017, which today with a small reworking gives life to the Italian remake. The most beautiful day, in cinemas from June 9 ** by 01 Distribution. Lots of misunderstandings and misunderstandings based on an already established plot, which becomes the occasion for the debut of the direction of Andrea Zalone, comic shoulder and insurmountable author of Maurizio Crozza. In the role of spouses Pier and Chiara, two children of a good family, Stefano De Martino (also struggling for the first time, as an actor) and Fiammetta Cicogna.
The video interviews Stefano De Martino, Fiammetta Cicogna and Andrea Zalone
The work of adaptation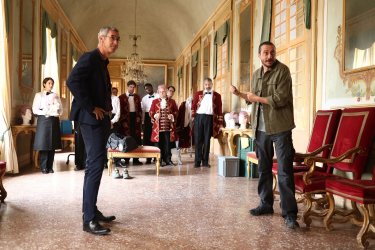 In his debut Andrea Zalone has no doubt: "It was a good exercise in humility. I had to deal with a very beautiful French film and I also shared the writing, although the bulk was done by Fabio Bonifacci. In a way it was also relaxing because I was taking off a bit of responsibility and dedicating myself to acting, directing, I found a way to deal with a different language. ". In the transition from the French original to the Italian remake The Most Beautiful Day, there have been many changes, especially in the dynamics between the characters: "Wanting to work with Luca and Paolo, the biggest job was to adapt the plot of the film and sew them together, so we put more emphasis on the love antagonism between the wedding planner and the photographer, which is not present in the French film.[…]We have tried to explain a little more about Italian society, it is a cross section, there is this double track of a certain type of bourgeoisie that wants to make a margin and then behind the scenes is made up of precarious workers who demand a decent wage, unintentionally to make social satire "..
The most beautiful day, the review: A wedding and many disasters
Between fiction and reality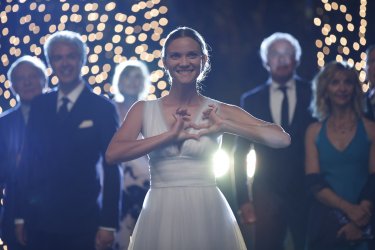 Stefano De Martino and Fiammetta Cicogna play the couple in the middle of the daring misadventures that turn the most beautiful day into a nightmare. "The 'best day' was actually five weeks of marriage, – the actress jokes about the set – Let's just say we've lived it to the fullest. This summer I was undecided whether to get married or not, in the end I said to myself, 'No matter, I'll go to the movies every night, look at it and see it again, at least me. don't change your mind! ". Understandably, since it will not be difficult for the audience to recognize themselves in at least one of the situations represented by comedy with often extremely grotesque tones: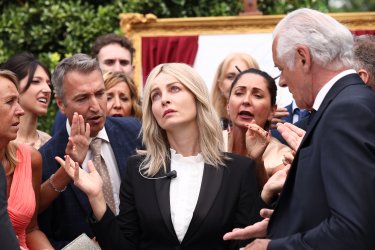 "Exactly what you see in the movie happens, I've experienced it with a lot of friends and family: before entering the church the bride is scared and fine, then she recovers. I think there's always something toxic. , as in the relationship between Pier and Chiara, but in her case she is the bride and feels a little more toxic than the groom, who is just a beautiful daffodil who wants to make his mother happy. ".
Even for De Martino it was not difficult to recognize some extremely real but surreal curtains: "Surely you can identify with these micro-stories and I think it's the most fun for the viewer: to recognize something that has happened to him or a family member, an aunt or a husband too attached to his mother. -explain- There are a number of stereotypes represented by this comedy that are hard to deny. ".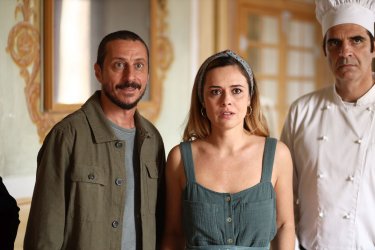 In which ones did they meet again? "Most of the weddings I attended were those where I worked as a waiter as a child: I saw a lot of them, in the exhausting waits of these endless and very hot summer weddings.", recalls the dancer here in his first rehearsal as an actor. Per Fiammetta Cicogna instead it is more a matter of recognizing situations, such as that of "Father of the bride who covers his nose and marries her … with a perfect idiot, but in the end he marries her. It's a family dynamic that takes a few years!"he admits, however, that Pier, an eccentric and vain descendant of a good family, is "not so bad.". Why should a woman fall in love with a man like him? "He's a handsome boy who entertains her. He's a harp, he dances from morning to night, he's a showman, he talks alone and they entertain you at the table."
Stefano De Martino's first time in cinema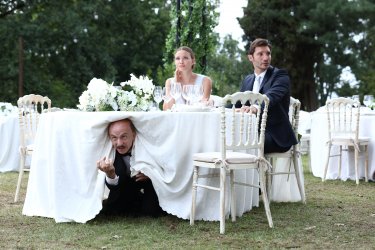 And in his debut as an actor the dancer Stefano De Martino comments: "It was also a discharge of responsibility for me and for Andrea, when you're on TV you talk like yourself, so you have another kind of responsibility. Here I was covered and shielded by a character, I also had someone who directed me and therefore … if it went wrong, it's all his fault! "concludes not without having mocked before one of the funniest scenes in the film, inherited from the French original, the one in which Pier is suspended twenty-five meters from the ground hanging from a balloon. "That scene lasted a long time, we had a double that we didn't use, so we can say that the only thing that unites this film with Top Gun is me and Tom Cruise, because like him he didn't want to use it. ! ".