"It is well known that sport has a beneficial effect on the psychophysical health of those who practice it, as well as positive influences on mood. Just as it is known that a woman who does sports is an active, positive, often cheerful and strong person, optimistic, healthy and successful. However, this has not always been the case. Or rather, it was not always thought that sports activities could also be carried out by women. These activities, in fact, have been almost exclusively the prerogative of men for centuries. That, even today, they are more dedicated than women to sports. Also at the economic level, as well as social and cultural level, men's sport is getting more feedback. "With these words the president of the Tuscany Region, Eugenio Gianipresented the book "Sport and Women" by the historian Simonetta Simonetti, author of other women's historiographical works, which was presented this morning, Saturday 11 June, in the Pegaso Room of the Palazzo Strozzi Sacrati. Along with President Giani and the author was present Andrea Pantanonational president of Libertas.
The book is a real journey between history and memory, clichés and prejudices, stereotypes but also traits of pride and acts of courage, as the evolution of women's sport, like all paths of emancipation, has also been characterized "from highs and lows." two steps forward and one step back, of dark days and moments of glory.
In the past, sport was linked to concepts of strength and fatigue that were reluctantly associated with women, to whom the ideas of grace and goodness were reserved. It has not been easy, in the last century, to scratch first, then modify and finally build a new sports model. However, today it is conceived as an activity available to all, men and women. This certifies a certain success of the path of emancipation, undeniable, even if the path to follow is still long.
"Women's emancipation is also linked to the definitive entry of women into the world of sport and the recognition of the value of their business," said President Giani. He stressed that Simonetti's book is "of great historical and testimonial value" because it "highlights not only the prejudices, clichés and stereotypes of which women's activities have been the victims, but also the path that women follow in their path to sports emancipation ".
"There is still a long way to go," said author Simonetta Simonetti, "the sport is still there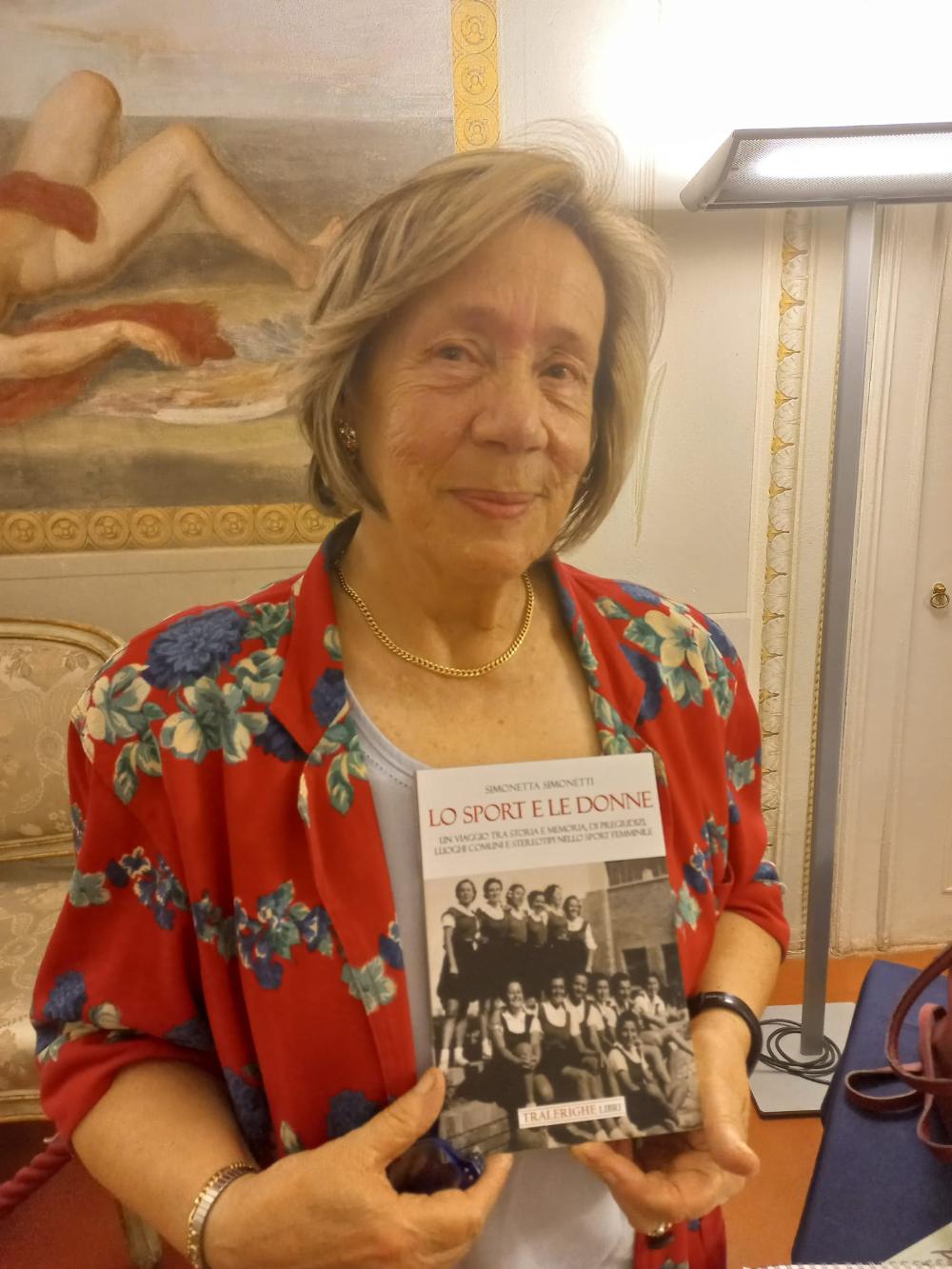 path by stereotypes. I take football as an example, which is the discipline that shows this discrimination even more today, because football is always considered a 'masculine thing'. If we give children a ball they are told to throw it with their feet, a girl is told to throw it with her hands because it is more 'convenient'. I am a gender historian and every time I try to talk about women and sports I see my head shaking, but talking about women means talking about a part of humanity that until the post-war period was not considered worthy of citizenship. . We come from a tradition in which the laws of morality and the church wanted women's bodies to be covered and protected only for motherhood. Then there was a period in history when sport became a social engine and a propaganda tool. Cycling was a rebellious and sinful act, but Alfonsina Strada took part in the Giro d'Italia amid a thousand hardships and difficulties. The book tells the story through some important figures in the sport, to make the younger generations know and understand better what has led us to today's struggles. "
The work presented today, highlighting characters, individual and collective stories, represents a journey in memory of a journey that, far from being completed, began in the late nineteenth century and involved first very slowly, then gradually, finally suddenly. and swirling way, women from all walks of life. Since the Second World War, we have also witnessed the action of athletes who, with strength, courage and determination, have called for their commitment and results to be treated in the same way as the of their male peers, demanding the same attention and recognition.
The author, who is part of the Italian Society of Historians and the Lucca Institute of Women's History and Histories, has been involved in the recovery of historical events linked to the emancipation of women in Italy and the Tuscany.
The Pandora's box, paraphrasing what Simonetti herself writes, is a mythological symbol that identifies the container of all evil and all evil. Its opening, symbolically, coincides with the moment when stories and contradictions are released, good and evil, the highlights of the tortuous path, revealing them.
There are innumerable individual and collective events of girls, women of sport, who in the long run have been paid, humiliated and defeated, to assert rights that today, in the third millennium, seem normal, universal, accessible to all. . However, if they had not been there, the forerunners, there would not be a present fact of results yet to be obtained, but also of an already changed reality of which there is no going back.